"GRASF 2015" GIS and Remote
Sensing Annual Scientific Forum
(15)-16-17 February 2015 in Al
Bustan Rotana, Dubai

Jointly Organized with Middle
East Geospatial Forum
MEGF 2015
Important Dates:
Abstract deadline: 31 Jan. 2015
Early Bird Registration: 20 Jan. 2015
( Early Bird registered participants are Eligible to take part in 1st and 2nd Prize Draw )
Registration: Until 5 Feb. 2015
(Registration beyond the 5th of February is subject to availability)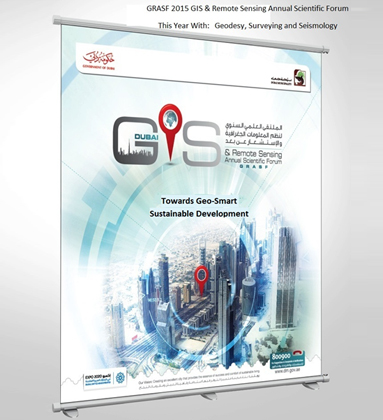 2015 Forum
"Towards Geo-Smart Sustainable Development"
Dubai Municipality hosts the annual event to provide the Geospatial and GIScience Middle East community the opportunity to share Geoknowledge, experiences, exchange research work results, developments and best practices that are tailored to the region, besides considering the aspects of international advent of GIS and Remote Sensing.
This Year With: Surveying, Geodesy and Seismology
Scientific committee of GRASF 2015
Prof. Mulhim Al-Doori (American University in Dubai)
Dr. Adnan El Nasan (American University in Dubai)
Prof. Martin Breunig (Karlsruhe Institute of Technology)
Edgar Butwilowski (Karlsruhe Institute of Technology)
Paul Kuper (Karlsruhe Institute of Technology))
Dr. Sisi Zlatanova (TU Delft)
Dr. Strobl Josef (Z-GIS University of Salzburg, Austria)
The event is targeting:
• Government spatial community
• Government Survey, Geodetic and Seismologic community
• Researchers and students with GI Scientific results or studies
• Private sector providing Geo spatial solutions
• Decision makers, City Designers, planners, engineers and GIS users from different disciplines
Benefits gained:
• Sharing Spatial knowledge among participants
• Coping with the advent of GIS technology and best practices tailored to Middle east region and specifically The Golf Region
• Meet GI community for opportunities of sharing project information and job or partnership
• Online publishing of your scientific work accredited by Dubai Municipality
• Hands on the advent of software and instruments used for mapping and GIS
• Enjoy a pleasant time in Dubai during and after the Forum.
GRASF 2015 Conference topics:
• Spatial Smartness and sustainability
• Spatial Data Infrastructure (SDI)
• Survey, Geodesy & Seismology
• Geodata Interoperability (OGC Standards)
• Mobile GIS Applications
• Smart Cities and Geodata Standard)
• 3D / 4D GIS
• Remote Sensing: Point Cloud Data Management • Big Data Solutions
• Seismology and relations to GIS
• Survey & Geodetic Solutions
• Environmental Spatial Analysis
To submit your abstract, follow the below URL or send email GRASF@dm.gov.ae
---
---
Keynote Speakers:
ISPRS First. President:
Prof. Orhan Altan
Director of Z-GIS Austria:
Prof. Josef Strobl
And More Keynotes to come!
Partner Organizations and Companies for 2015 Event: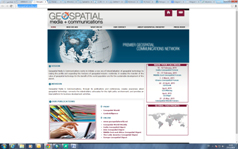 http://www.megf.org/2015/index.htm